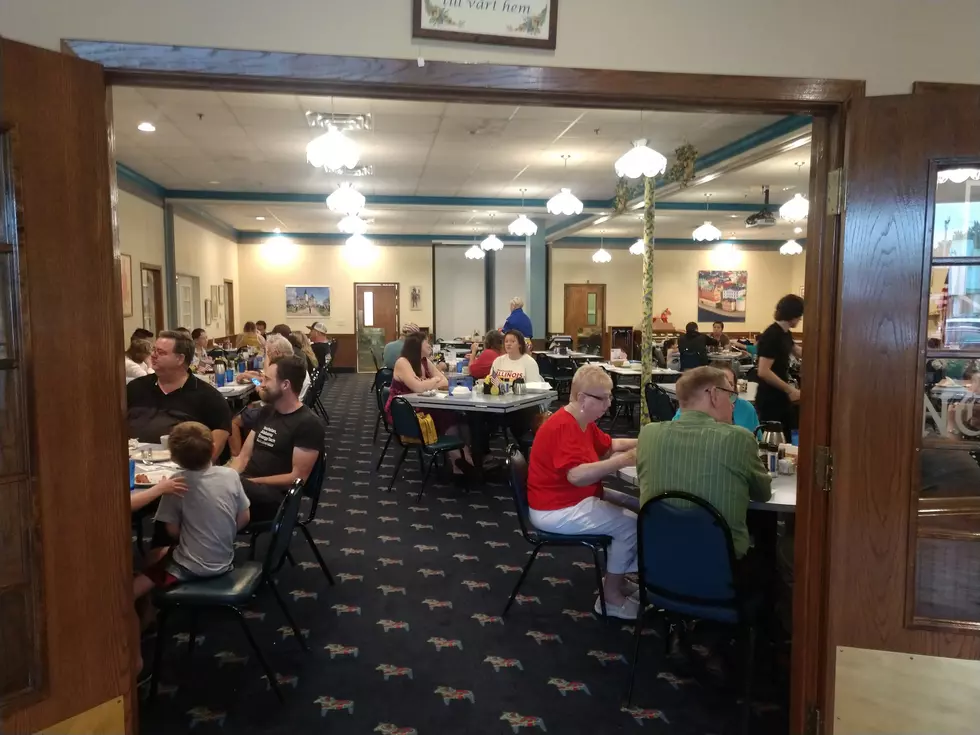 A Delicious Swedish Breakfast is Only a Short Drive from the Tri-States
A view of Stockholm Inn in Rockford, IL. Photo Credit: Steve Pulaski
Think about the last time you indulged in a buffet. Quite frankly, I thought they were going to be all-but extinct following the pandemic. I just couldn't wrap my head around the idea that they would make a comeback, or have the following that they always did.
I couldn't have been more wrong. I knew that immediately upon entering the Stockholm Inn in Rockford, IL, a buffet-centered restaurant that sees its floors packed every day for breakfast and lunch. As the name would suggest, the Stockholm Inn is a Swedish restaurant, predicated on "high-quality ingredients and some Scandinavian hospitality" to go with it.
The restaurant features a spacious dining area along with a gift shop filled with treats, mugs, décor, and other trinkets. One look at the menu and you might be overwhelmed by the vast array of options: omelets, pancakes, corned beef hash, eggs benedict, and more. And that's just the breakfast menu.
The lunch menu sports a plethora of different sandwiches, including "The Best Chicken Sandwich Ever:" a grilled chicken breast piled high with tomato, lettuce, special sauce, bacon, and crushed potato chips on a bun. The price? A very reasonable $8.79.
My friends and ultimately opted for the buffet, which was a terrific decision upon entering the room where all the food was set up. There were about 20 trays, each brimful with different options; some sweet, some savory.
Stockholm Inn is famous for their Swedish pancakes. Visually speaking alone, Swedish pancakes are a night-and-day difference from their American counterparts. They resemble that of a crepe in being lighter in a color, fluffier, and traditionally speaking, not topped with maple syrup. Swedish pancakes instead are to be enjoyed with fruit on top, such as lingonberry, otherwise known as "mountain cranberry."
The food was delicious; one of the best breakfasts I've had in sometime. I've visited countless diners over the years, and it's an open secret that they all have a certain familiarity to them. Stockholm Inn sets itself apart.
Stockholm Inn is different. The authentic Scandinavian interiors provide a different kind of coziness, almost like you're in someone's private residence. The restaurant oozes character the same way the food oozes flavor.
Beyond breakfast, Stockholm Inn offers an eclectic variety of daily specials. Case-and-point, Mondays revolve around Yankee Pot Roast. Thursdays are all about BBQ baby-back ribs. And regardless of Lent, every Friday of the year is a fish fry.
Lastly, one of the most underrated pastries as far as I'm concerned is the Kringle, a large, round, usually frosted treat that boasts a fruit filling. Me and my friends opted for the raspberry one on the way out.
Take it from me, Stockholm Inn is worth the drive. It is located at 2420 Charles Street in Rockford, IL.
Our Freedom Story mural - downtown Waterloo
Take a walk along the Cedar River in downtown Waterloo to view this 3,000-square-foot mural of the city's civil rights history shown abstractly through lines, shapes, and colors. Located behind the Waterloo Center for the Arts (near the Highway 63 bridge). Created by the Waterloo Youth Art Team.