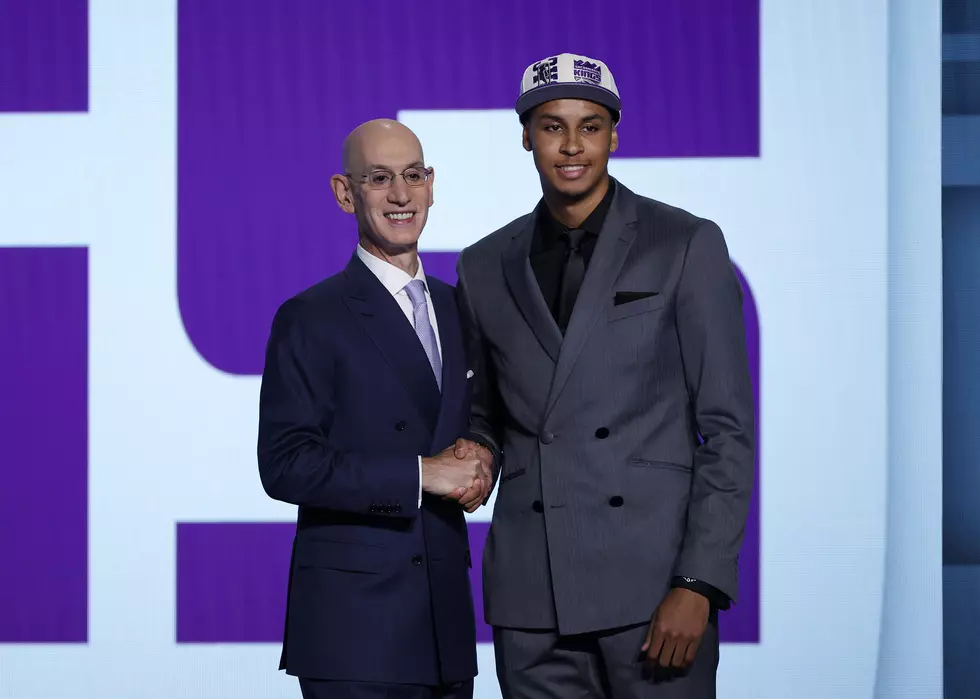 Iowa's Keegan Murray is Now a Sacramento King Following NBA Draft
Iowa Hawkeye power forward Keegan Murray alongside NBA Commissioner Adam Silver after being selected by the Sacramento Kings in the 2022 NBA Draft. Photo Credit: Sarah Stier, Getty Images
Sports does what politics often wishes it could. It brings people of all different walks of life together. It pulls kids out of poverty and gives them an opportunity at generational wealth. Maybe most significantly, it gives us something root for, regardless of how bleak the world might look.
More dreams were made last Thursday, June 24th during the 2022 NBA Draft. One person who saw all his hard work and dedication pay off was Cedar Rapids native Keegan Murray, who was selected by the Sacramento Kings, who held the fourth pick.
Murray is only the second native Iowan to be drafted in the top five of an NBA Draft. The last was Hampton-born Raef LaFrentz in 1998; he was selected third overall by the Denver Nuggets in 1998.
A three-star recruit from Prairie High School, Murray committed to Iowa in 2019. The Murray family has deep ties to the Hawkeyes, with Keegan's father, Kenyon and younger brother, Kris both having suited up for the black and yellow.
Murray showed promise as a freshman, but broke out, like most, as a sophomore, averaging 23.5 points per game (PPG) and shooting 55.4% field goal percentage. Murray started 35 games for the Hawkeyes last year, instrumental in their 26-10 record, which was good enough to get them a spot in the NCAA Tournament this past March.
The nation's top power forward, Murray's final season at Iowa saw him win the Karl Malone Award, be voted a consensus first-team All-American, and the Big Ten Tournament MVP. He was long-rumored to be a top ten pick, and him being selected #5 etches him into the pantheon of Iowans and Hawkeyes alike.
That said, the hype will be as real as the pressure. The Kings currently have the longest active playoff drought amongst the four major American sports leagues (NFL, NBA, MLB, and NHL). The Kings have failed to qualify for the playoffs for 16 consecutive seasons, the last time being in 2006. The franchise's sole championship was in 1951, when they were the Rochester Royals. The only other NBA team that comes close is the Charlotte Hornets, who haven't made the playoffs in six seasons.
Murray enters a team that's young and finding their way following a 30-52 season that saw their head coach Luke Walton fired early into it. He'll join a line-up presumably aided by Baylor's Davion Mitchell, who was the #9 pick in last year's draft, and the ascending De'Aaron Fox.
No less, Murray is all smiles and good vibes after making Iowa history last Thursday. In his introductory press conference with the Kings, he said "It's a dream come true to be able to pull on the purple and black so I'm grateful to be in this position."
There goes sports once again, making dreams come true for another talented soul.
CHECK IT OUT: 100 sports records and the stories behind them