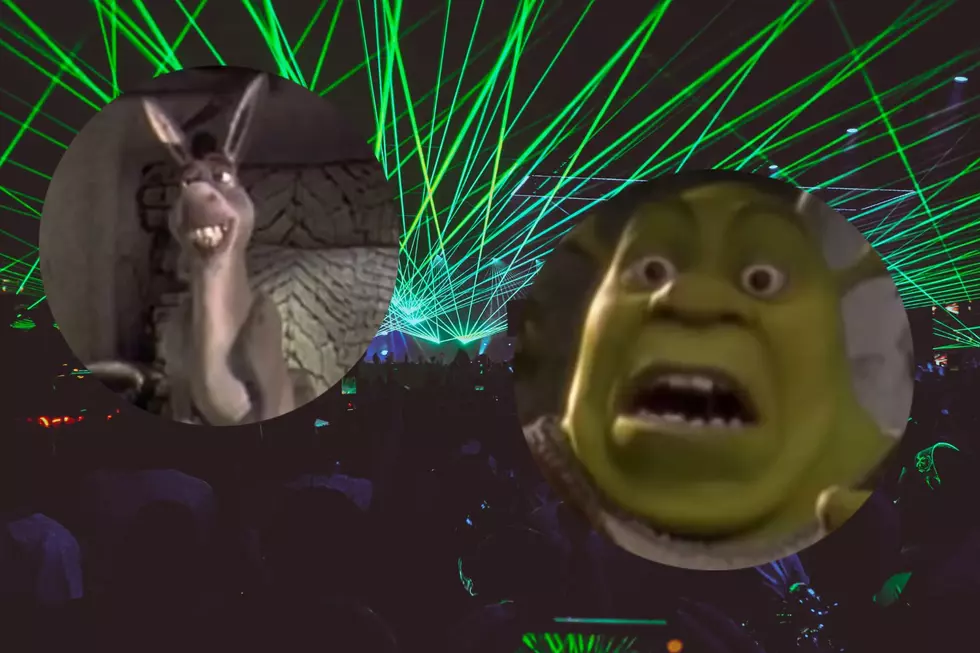 "Shrek"-Themed Rave Coming to Wisconsin in September
Photo Credits: Zachary Smith, Unsplash (rave); Shrek (2001) Trailer #1, YouTube
Shrek is such a cultural touchstone for millennials and Gen Z alike, so much so that I guess I shouldn't be surprised that a unique dance party revolving around the DreamWorks classic is coming to Wisconsin.
A "Shrek Rave" will be taking place at The Rave/Eagles Club in Milwaukee, WI on Saturday, September 3rd at 9pm. All ages are welcome, and the advertisement is kind of hilarious.
The Milwaukee club's graphic designer definitely had fun working on this image. The event is marketed with an image of Shrek rocking rainbow-colored shades, an 8-bit-style ogre chain, bead-bracelets, and a pair of gloves with glowing fingertips. The only aspect that's funnier is the descriptors for the event itself.
"It's Dumb, Just Come Have Fun" is the justification for this upcoming Shrek-themed party along with choice zingers like "Cool is Dead!" and "Who Cares?" You have to admire such limp disclaimers for an already strange event, but I suppose the target demographic will be on-board after one look at the caricatured ogre and his signature rave apparel.
For those unaware, a "rave" is a type of dance-party that's been extremely popular since the late-2000s. Held at a private venue or brick warehouse, a rave generally features one or more DJs playing electronic dance music (EDM), house music, trap, techno, or some hodgepodge of like genres.
Raves are further characterized by huge subwoofers that produce a heavy bass, which intensifies the atmosphere. As the image of Shrek suggests, loud colors are encouraged, for the accompanying laser lights, fog machines, and visuals contribute to a bright and lively aesthetic. Throw in folks dressed like Eddie Murphy's Donkey and Camera Diaz's Princess Fiona (there's sure to be at least one Farquaad in the mix too), and you got a "Shrek rave."
The idea for a Shrek-themed rave originated in East Williamsburg, Brooklyn and soon expanded to the west coast with similar parties being held in Portland and San Francisco. This is the first of its kind in Milwaukee.
Admittedly, I'm not the target audience for a rave. It's an atmosphere that's always intimidated me. That said, I would love to see the collective high this particular party will experience the moment Smash Mouth's "All Star" — the theme song for Shrek — plays. Like the animated movie itself, "All Star" is as well-known as any song from the 2000s. Many years later, most of us still know all the words and recognize its status as an eternal banger.
So, if that's enough to sell you, the upcoming "Shrek rave" might be worth the drive!
Early-bird tickets for the Labor Day weekend party are only $15 with the first act scheduled to take the stage at 9pm. Tickets are available to purchase on The Rave/Eagles Club website.
Check Out the Best-Selling Album From the Year You Graduated High School
Do you remember the top album from the year you graduated high school?
Stacker
analyzed
Billboard
data to determine just that, looking at the best-selling album from every year going all the way back to 1956. Sales data is included only from 1992 onward when Nielsen's SoundScan began gathering computerized figures.
Going in chronological order from 1956 to 2020, we present the best-selling album from the year you graduated high school.