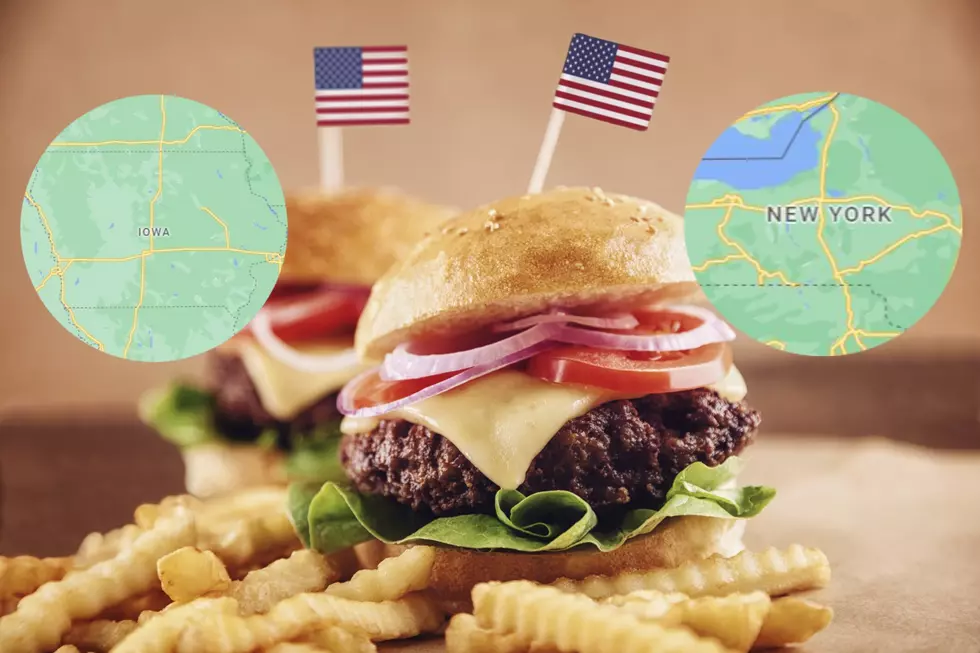 Iowa's Best Burger Takes on New York's Best in Competition
Photo Credit: NatashaPhoto (burger) and Google Maps (Iowa and New York state outlines).
States get passionate about their food, that's a given. And while we can never definitively see who has the better football team, Iowa and New York have ignited a nail-biting, mouthwatering competition.
The Iowa Beef Council said the New York Beef Council challenged them to an online burger battle. Bravo to the Hawkeye state for not backing down!
"The Tombstone" burger from The Flying Elbow in Marshalltown will take on New York's "Holy Smokers" burger, which can be found at Ale 'n' Angus Pub in Syracuse. Voting is officially open and you can cast your vote on the Iowa Beef Council's website now!
In early May, The Flying Elbow was awarded for "Best Burger in Iowa" for their "Tombstone" smashburger, which is piled high with chuck, brisket, and short rib. The burger, which contains the acclaimed Wagyu beef, is fresh (never frozen) and sourced from Midwest cattle.
The Tombstone is stacked with Manchego cheese, bacon, guacamole, sour cream, shredded lettuce, tomato, and death valley hot sauce on the side.
Meanwhile, New York crowned "The Holy Smokers" burger from Ale 'n' Angus Pub in Syracuse the winner for best in state. The prize-winner boasts an 8oz Certified Angus Beef patty topped with smoked beef brisket, pepper jack cheese, house-made seasoned onion straws, and house-made brown sugar BBQ sauce — served on a pretzel bun.
A public vote to determine the best offering in a state. The voting process gets narrowed down to a final four and then a cook-off/judging event that officially selects the best burger.
It comes down to the Big Heart of the Midwest versus the Big City of the East Coast. If you're reading this, I think I already know who you got. Cast your vote here, until June 13th!
The Best Burger Restaurants in the Cedar Valley
According to Yelp reviews, these are the BEST burger joints in the Cedar Valley. See if you agree!