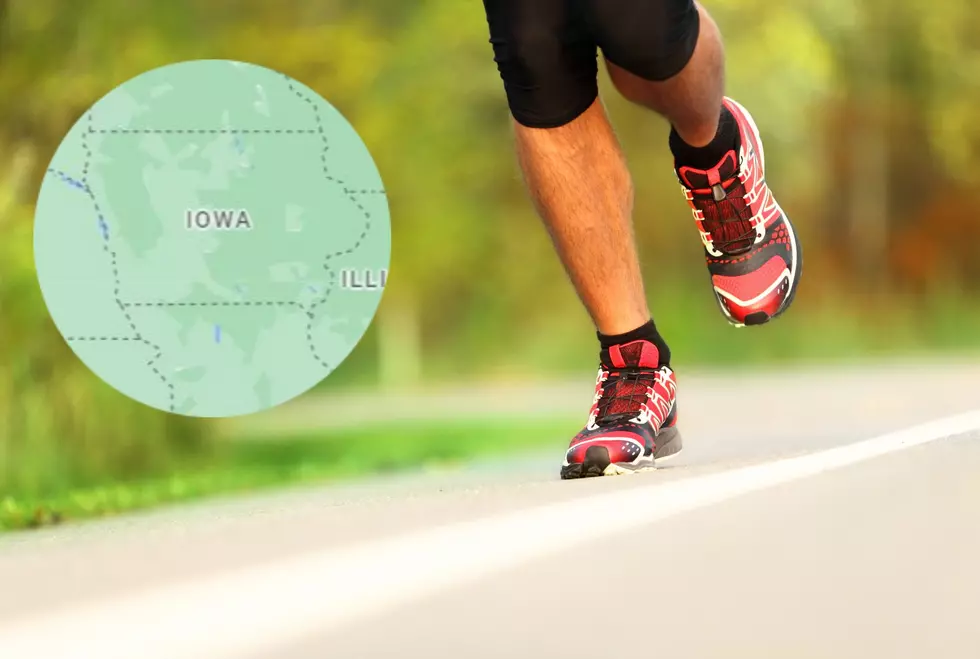 A Man Has Run a Mile in Almost Every Town on the Iowa Road Map
Photo Credit: Maridav, GettyStock (runner) and Google Maps (Iowa).
In 2015, Tyler Sullivan set a goal. He wanted to run a mile in each city on the Iowa road map. Talk about a lofty goal.
That's 99 counties in total. As of today, he's made it to 92.
Sullivan doesn't just make the trek, run a mile, and then proceed on the long jaunt back home. He makes an event out of it. He prioritizes stops at museums, dinners, and specific landmarks; sometimes he elects to join in on a local road race.
When he returns, he sits down to write a poem about each county he visits. Sullivan is a poet, and has self-published two books. He's been writing poetry for 13 years.
As a writer myself, I have to do a double salute to Sullivan. Running and writing are two things that live and die by one's commitment and self-discipline.
"It just feels like life continues to move on really fast and you just have to enjoy life," Sullivan said in an interview with KCRG News. "That's why I'm enjoying Iowa. I love seeing people, talking to people and I just try to inspire people to see more of it,"
That's a Ferris Bueller way of looking at life, most definitely. I love it.
Sullivan has also gone the extra mile (literally and figuratively) by creating a Facebook page documenting his travels. It's fittingly called "Iowa's Scenic Views By Foot." In every town he visits, he takes an assortment of photos and writes a brief blurb. He also posts some videos of his travels on his page.
You get the idea that for Sullivan, it's not necessarily about a fitness journey. Nor is it really about trying to write the next bestseller. It's an exercise in personal enrichment. It's his way of slowing life down to a more relaxing speed while experiencing various nooks and crannies of the Hawkeye state.
One day, however, his book about Iowa's many different counties will be released. And it will be a book worth reading.
Small Town Iowa: Road Trip to Pella - Photos
When you mention Pella, most people say "they have all the tulips right?" Where that would be correct, there is so much more to this town. Pella is also home to two manufacturing companies, a college, the largest working windmill in the U.S. and it's the boyhood home of the legendary Wyatt Earp. Now, let's go on a virtual tour of this excellent example of picturesque small-town Iowa.