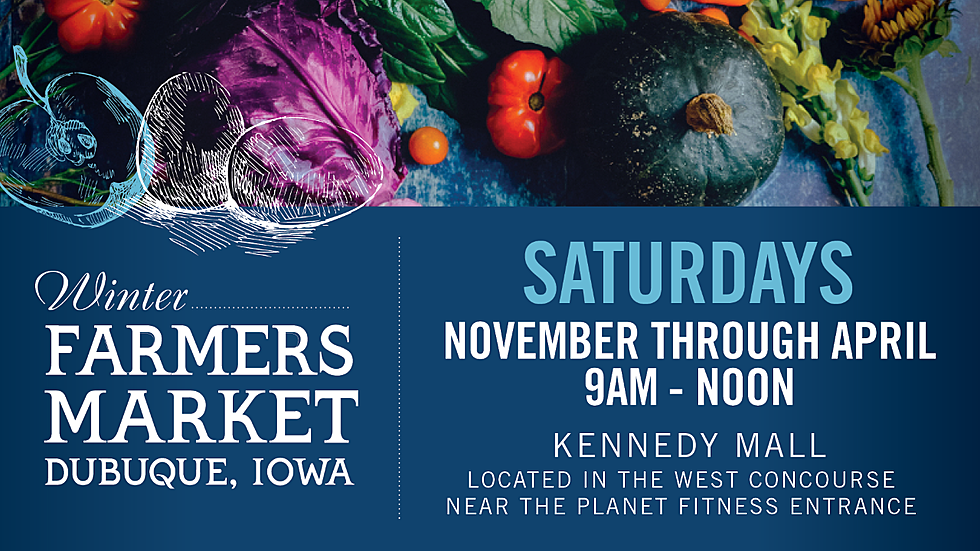 Dubuque Winter Farmers Market Starts This Saturday (11/6)
Dubuque Winter Farmers Market
With Halloween, the World Series, and a variety of other things happening, you may have missed the final Dubuque Farmers Market over the weekend.
Ah, dang! No more sweet corn, fresh donuts, and tasty burritos?
Luckily for you, the 15th season of the Dubuque Winter Farmers Market starts this Saturday inside Kennedy Mall.
The winter market will run every Saturday (except for Christmas Day and New Years Day) from 9 am until noon in the former Younkers Men's Storefront by Planet Fitness and will run through April 30th of next year.
Winter Market will feature over 30 regional vendors, who will offer seasonal produce (sorry corn people), eggs, meats, cheeses, honey, maple syrup, starter plants, herbs, baked goods, and more.
Organizers will also feature a monthly educational speaker series, held onsite during the last market of each month. This will give you an opportunity to engage with regional experts on topics related to our food system.
Market Tokens will be available for purchase at the Winter Market Information Booth. You'll be able to purchase them using credit, debit, or SNAP/EBT cards. They can be used like cash at all vendor booths. (Maybe give them to your market-loving family members as holiday gifts so you can help support local vendors, too!)
To be environmentally friendly, Winter Market organizers are encouraging you to bring your own reusable shopping bags. There will also be a recycling station that will accept clean egg cartons, glass canning/mason jars (only), and plastic grocery bags.
If you'd like to be a vendor or volunteer, there are opportunities! You can contact Danielle Stowell at manager@wintermarketdbq.com. Vendor applications and other information can be found at the Winter Market WEBSITE.
KEEP READING: 3-ingredient recipes you can make right now