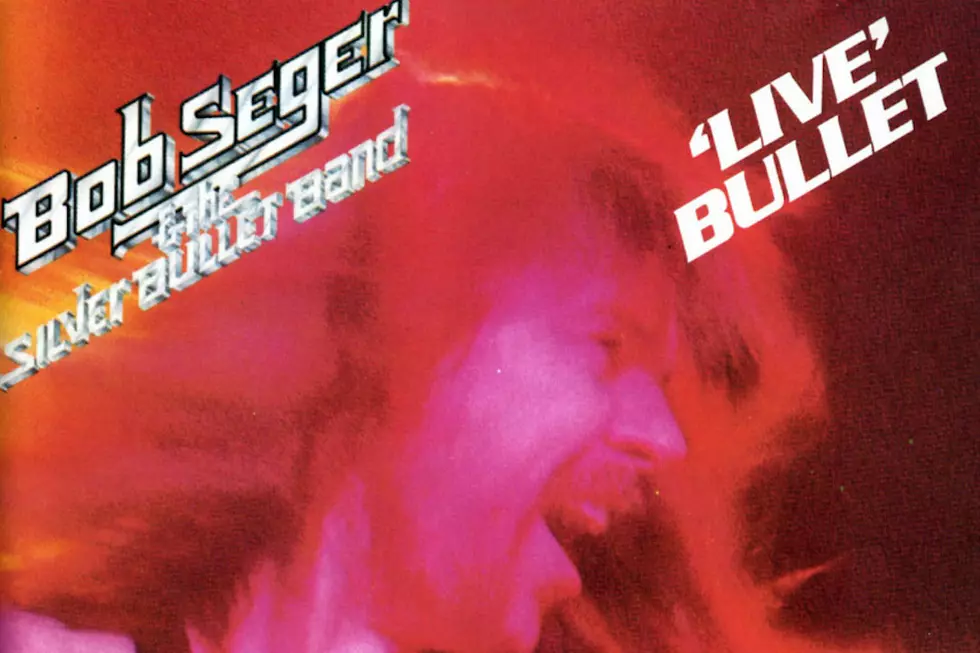 How Bob Seger Finally Broke Out With 'Live Bullet'
Capitol Records
The 1976 double-album Live Bullet captures Bob Seger precisely at the midpoint of his transformation from rock 'n' roll journeyman to arena-rocking celebrity. Recorded on his home turf at Detroit's Cobo Hall, the LP also happens to be one of the greatest in-concert documents of Motor City rock 'n' roll ever released.
As the epitome of heartland rock, Seger became such a ubiquitous presence that it's easy to forget he was anything but an overnight sensation. In fact, he issued his first single back in 1961, before he was even old enough to drive. The seven albums he released between 1969 and 1974 (which went out of print for decades) earned him a rabid following around Michigan, with a raw, gritty blend of rock and soul that had more in common with MC5 and Mitch Ryder than it did with Bruce Springsteen.
In the rest of the country, however, Seger's reception was basically "Bob who?" for that entire period.
In 1975, he released Beautiful Loser, which turned a bit more toward reflective balladry than balls-to-the-wall rock 'n' roll, sowing the first seeds of Second Act Seger, the platinum-selling superstar. The album wasn't a huge success, but its studio successor, Night Moves would be.
In between, Seger hit the road in 1975, supporting Beautiful Loser, and his Cobo concerts from that tour are the ones immortalized on Live Bullet.
Listen to Bob Seger Perform 'Turn the Page'
The first side of the original double LP presented the 1975 face of Bob Seger, with four songs from Beautiful Loser. And while the hard-charging version of Tina Turner's R&B stomp "Nutbush City Limits" showed that Seger could still kick it with a vengeance, "Travelin' Man," "Beautiful Loser" and "Jody Girl" revealed another side of the gloriously gravel-throated singer: the thoughtful balladeer who had only popped his head up for fleeting moments on earlier albums.
There was no "Night Moves" or "Against the Wind" in the world yet, but these tunes at least pointed the way toward that possibility.
With the exception of "Turn the Page" – a dark, slow-burning tune that was still tough enough, despite its hushed vibe, to be covered by Metallica 23 years later – the rest of Live Bullet brings us the old-school Seger; the man who had spent the entirety of his adult life thus far storming stage after stage with his unadorned, piston-pumping rock 'n' roll onslaught.
Seger wasn't on that stage alone. He was backed by the Silver Bullet Band, his own personal wrecking crew since 1974's Seven, though sax man Alto Reed had been on board for longer.
Between the steam-hammer drumming of Charlie Allen Martin, the roiling organ of Robyn Robins, Drew Abbott's spitfire six-string, Alto Reed's soul-soaked sax and Chris Campbell's fat, pulsing bass lines, the Silver Bullet Band was the vehicle that drove Seger head-on to rock 'n' roll glory. Just as Springsteen had his E Street Band, these guys knew what it took to ignite some Detroit dynamite onstage every night.
Listen to Bob Seger Perform 'Travelin' Man'
Seger covers primary influence Van Morrison on "I've Been Working," serving up a smoldering version of the funk workout that plays perfectly into the proletarian sensibility that was central to his early output with its account of a hard-working man trying to get some sweet relief while he's off the clock. The blues shuffle "U.M.C." approaches working-class concerns from the opposite end, gleefully skewering yuppie types (the title stands for "upper middle class").
He honors another of his heroes by amping up the song Bo Diddley named after himself, adding an impressive amount of Detroit-style sweat equity into the tune. Seger first cut "Ramblin' Gamblin' Man" back in 1968 and at the time of the Cobo dates it remained the only actual hit he'd ever scored, becoming his signature song until it was eventually eclipsed by his late '70s hits. The roaring, pummeling live version of that rough-edged garage rocker on Live Bullet stands as a testament to the tune's timeless power.
The potent but never preachy countercultural social commentary of "Lookin' Back" made it clear that Seger could rock and think at the same time. The trio of "Katmandu," "Get Out of Denver" and "Let It Rock" elsewhere showed how much Seger owed to another great rock 'n' roll spokesman for the common man, Chuck Berry. The first two find Seger successfully adapting Berry's trademark riffs and rhythms to fresh, contemporary settings. The last is a straight-up cover, on which Seger jokingly riffs on the seamier side of Berry's history.
Released on on April 12, 1976, the multi-platinum Top 40 smash Live Bullet became far and away Seger's biggest album up to that point, and it helped introduce him to the national audience that would wholeheartedly embrace him with the release of Night Moves just six months later.
As live albums go, it's damn near untouchable. As a primer on a part of Seger's story that's nearly forgotten these days, it's invaluable.
Bob Seger Albums Ranked