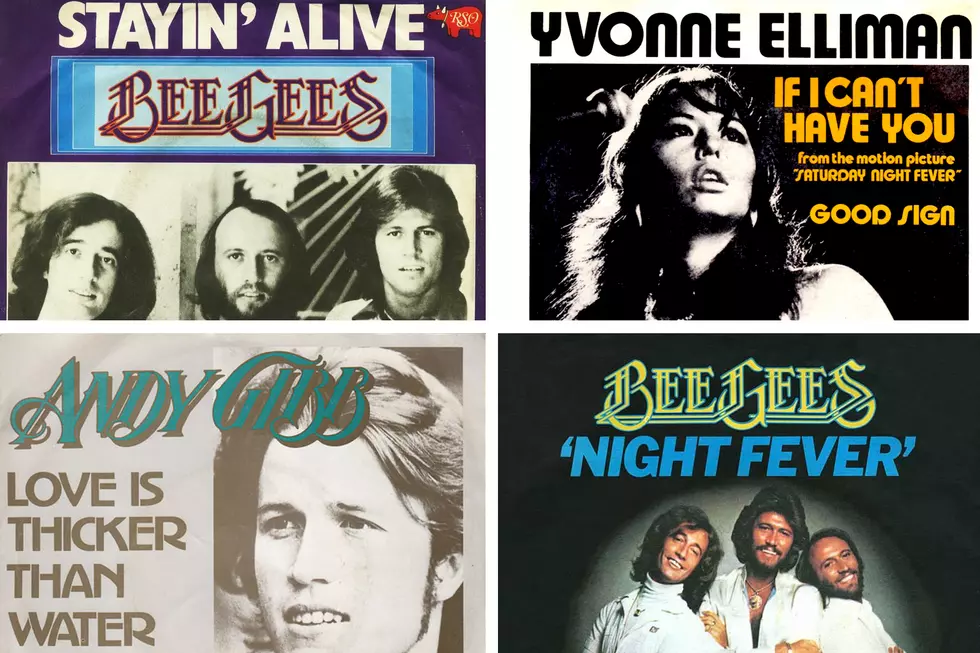 40 Years Ago: Barry Gibb Camps Out at No. 1 With Four Hits
When Yvonne Elliman's recording of Barry, Robin and Maurice Gibb's "If I Can't Have You" hit No. 1 on the Billboard Hot 100 on May 13, 1978, it was more than just a big hit from a familiar voice, more even than just the latest smash from the biggest album in the U.S. (the Saturday Night Fever soundtrack). "If I Can't Have You"'s ascension to the top of the pop chart gave Barry Gibb his fourth consecutive No. 1 single as a songwriter — a feat unmatched by any other writer, and a record that stands to this day.
The streak started on Feb. 4 of that year, when the Bee Gees' "Stayin' Alive" began its four-week run at No. 1. The Gibbs started writing the song after receiving a call from their manager, Robert Stigwood, who was producing a film based on an article in New York magazine by British writer Nik Cohn, called "Tribal Rites of the New Saturday Night." The article — and the film that followed — centered on the lives of working-class Brooklynites and their weekend escapades at a local discotheque.
At the time, the band was holed up in France at Château d'Hérouville (where Elton John recorded Honky Château), working on a new album. They turned over to Stigwood all the material they had recorded to that point — a parcel of songs that included "Night Fever," "If I Can't Have You" and "More Than a Woman."
Stigwood wanted the band to write a song called "Saturday Night," to serve as the film's title track. After the Gibbs finished the song in Miami's Criteria Studio, Stigwood asked why they were singing "Stayin' alive," instead of "Saturday night." In Melinda Bilyeu, Hector Cook and Andrew Môn Hughes' book The Ultimate Biography of the Bee Gees: Tales of the Brothers Gibb, Maurice is quoted as saying, "We said it's because there are so many bloody records called 'Saturday Night.' It's corny; it's a terrible title."
"Stayin' Alive"'s run at the top was ended, oddly enough, by "(Love Is) Thicker Than Water," the second No. 1 by the Gibbs' little brother, Andy. Though both Barry and Andy are listed as co-writers of the song, Andy was quick to point out that his older brother was really the driving force in composing the track.
"It is very hard to write with Barry," Andy said in The Ultimate Biography, "but he said, 'Help me think of a great title.' That was a period where Barry was thinking of titles first and seeing how they would inspire him to write a song. ... I said, 'How about "Thicker Than Water?"' I did not say 'Love Is [Thicker Than Water]'; just 'Thicker Than Water.' He said 'That's great!' and then he came up with 'Love is higher than a mountain' and just went on from there, but the title was totally my idea."
"(Love Is) Thicker Than Water" had a two-week stay at No. 1, and was dislodged from the top spot on March 18, 1978, by the Bee Gees' "Night Fever," which began an eight-week run there. Such was "Night Fever"'s popularity, it even brought "Stayin' Alive" (which had begun its descent down the Hot 100) back up to No. 2 for five weeks.
According to The Ultimate Biography, Barry began writing the melody for "Night Fever" after hearing the band's keyboard player, Blue Weaver, playing a variation of the Percy Faith Orchestra hit "Theme From A Summer Place." According to Albhy Galuten, who co-produced the song, the song evolved as the Gibbs developed "the hook-line and rhythm — they usually pat their legs to set up a song's rhythm when they first sing it."
Robin noted that the leg-patting thing was a common tool the group used when writing. "We must look weird tapping out a beat hitting our hands against our legs and working out a song with no instruments," he told Songwriter magazine in 1978. "People who aren't into songwriting look at us and think we're ready for the rubber room." The brothers completed the writing of "Night Fever" on a staircase at the Chateau d'Hérouville, inspired by the echo in the 13th century structure.
"Night Fever" was the song of the spring of 1978, finally yielding the No. 1 spot to Elliman's "If I Can't Have You." It was Elliman's first chart-topper, and fourth Top 40 hit. She had appeared as Mary Magdalene on the original concept album of Jesus Christ Superstar before going on to star in the first Broadway production and the film of it. After that experience, she sang background vocals on Eric Clapton's hit version of Bob Marley's "I Shot the Sheriff," and was in Clapton's band for five years.
In James Arena's book, First Ladies of Disco, Elliman talks about the sweep of the song, and how its lyrics were were atypical of dance floor hits of the era. "This person is devastated by not having this love in their life," she said. "The horrible pain of not being with the person you want to be with, so that you don't want anybody. … [I]t's a sad song, yet so uplifting as a disco song. … It's funny how people can sing along with the lyrics about the crying and how they can't go on, they don't have the strength, but yet they're laughing and dancing!"
"If I Can't Have You" yielded the top spot after only one week (to Wings' "With a Little Luck"), breaking Barry Gibb's streak of No. 1 hits at four. It wasn't long until he was back, though — a month later, little brother Andy would be back on top, beginning a seven-week run with the Barry/Robin/Maurice-penned "Shadow Dancing," and as the summer ended, Frankie Valli's theme to another Stigwood/Travolta film, "Grease" (which Barry wrote solo) would spend two weeks at No. 1.
In other words, 1978 belonged to Barry and the brothers Gibb. "We weren't on the charts," Maurice once boasted to Rolling Stone. "We were the charts."