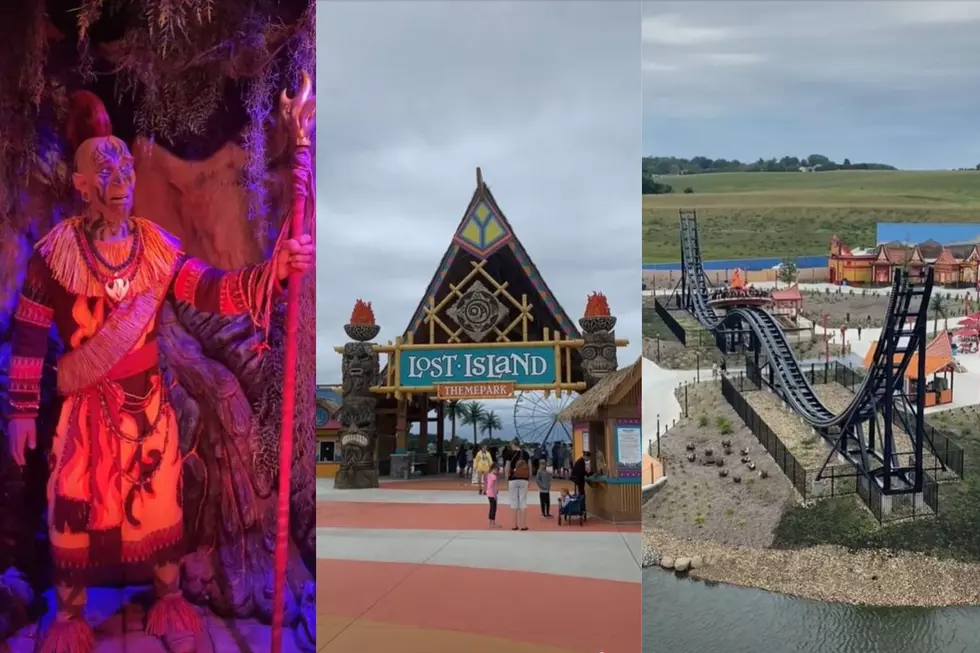 A Viral TikTok Shows New Waterloo Theme Park Up Close
Photo Credits: coastercuzzies, TikTok
In June 2022, the Lost Island Theme Park opened in Waterloo, IA. Boasting 90 acres, the amusement park is home to five themed lands and three rollercoasters, making it an ideal place to take the whole family.
Recently, Lost Island got a boost on TikTok thanks to user "coastercuzzies," who also hosts a rollercoaster-centric podcast of the same name. The four-minute video is a walkthrough of the park, showing its many areas and rides in detail.
Clearly, the hosts of this podcast are more experienced in the realm of amusement parks than myself. However, its concept-driven attractions were good enough for one of them to say the park has "the best theme of any regional theme park I've ever been to."
The video — which has amassed nearly 60,000 likes and a few thousand shares at this time — begins by highlighting "Volkanu," a dark-ride that features a small coaster, screen-based 3D technology, and animatronics. All of those elements make it an immersive adventure from the video alone. Part of the "Mura Fire Clan" area of the park, the concept revolves around, you guessed it, a volcano:
A village built on the foothills of a volcano, this realm is home to spiritual clan of warriors and acrobats that protect the island from the malevolent fire demon Volkanu. -Wikipedia
One of many notable features of Lost Island is all the character and concept designs to be found in the park are original ideas. They're not based on preexisting intellectual property (IP). This gives the attractions an added layer of uniqueness you can't find anywhere else.
Some of the rides the host shows have yet to open. Judging from various landscape shots in the video, there is room for Lost Island to grow into something even more substantial. It's positioned alongside a small river-bank as well, which adds another layer of intrigue and ambiance to the overall design.
Speaking of water, the "Awa Water Nomads" area piqued my interest the most. It features a "splash battle," a flying carousel, a music express ride, and more. Its concept, as referenced in Wikipedia, states:
A land of carefree nomads who enjoy simple pleasures and adventure. Spread across the eastern shore of the park's lake and the park's central island.
Lost Island Theme Park is a straight shot on Hwy 20 West, and ultimately might be worth it for a day-trip! If I can find a willing friend, I wouldn't mind venturing out there myself for an afternoon. I've never been a huge fan of rollercoasters, but Lost Island looks like it prioritizes an experience more-so than death-defying rides.
A big shoutout to the hosts of the Coaster Cuzzies podcast for highlighting a brand new amusement park in Iowa! You can find their podcast here and follow them on Facebook as well!
Lost Island Theme Park is located at 2600 East Shaulis Road. Visit their website and Facebook page.
Iowa Facts You Likely Never Knew
Iowa has a state with a rich history and many fun facts, How many of these did you already know? Test your Iowa knowledge!