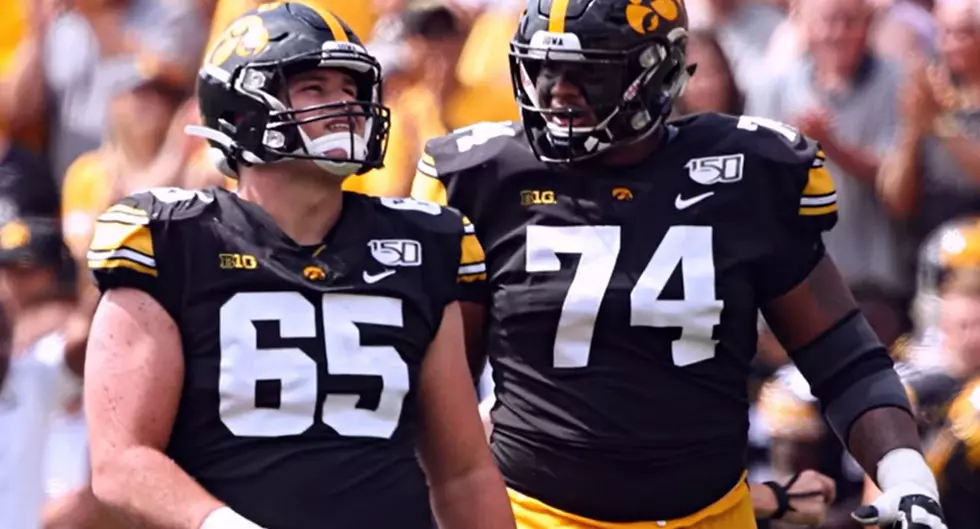 Two Small-Town Iowans are Now Among the Top Linemen in the NFL
Photo Credit: We Are Iowa, Local 5 News, YouTube
One was an accomplished football player on both sides of the ball and a star wrestler in Solon, IA. The other was a wrestling and track and field sensation on top of being a committed football player in Mount Vernon, IA. One time, they wrestled one another in high school.
Then they became teammates at the University of Iowa. And then both were selected in the first round of the 2020 and 2022 NFL Drafts, respectively. Now, they're two of the best at their respective positions, both on the offensive line.
Those gentlemen are Tyler Linderbaum and Tristan Wirfs, and their teams, the Baltimore Ravens and Tampa Bay Buccaneers, just faced each other on Thursday Night Football on October 27th, 2022. The Ravens won 27-22, but both men won when they heard their names called on those fateful days.
But before Wirfs became a Super Bowl champion his rookie year with the Bucs, and long before Linderbaum became the starting center for NFL MVP winner Lamar Jackson, the two squared off in a wrestling match in Solon in 2017. Linderbaum beat Wirfs with a takedown. However, he's glad he'll never have to do it again.
In an interview with We Are Iowa, Local 5 News, Linderbaum said he's glad that match is behind him, despite his victory:
We both [wound] up going to Iowa together, and then we became good friends. [....] Tristan, I'm glad that's the last time I'll ever wrestle you. Because I know if you got the opportunity to wrestle me again, it would probably go in your favor.

 
The idea that two small town Iowa boys from rival high schools would go on to wrestle one another, later become teammates on the Iowa Hawkeyes' historically great offensive line, and then become first-round picks in the NFL Draft is the stuff of movies. In fact, if it were a movie, many of us would probably call it unrealistic. However, as life proves, there are stories stranger than fiction.
Now, the Iowa legends-in-the-makings are protecting legends themselves. Linderbaum is the starting center for the Ravens, meaning he has direct communication with quarterback Lamar Jackson on every play. Wirfs has the lofty challenge of protecting the GOAT Tom Brady. Linderbaum is only eight games into what looks to be a long, prosperous career.
Meanwhile, Wirfs already has a Super Bowl ring, coupled with All-Pro and Pro Bowl honors in 2021.
I caught the Ravens/Bucs game at a bar last week. The Iowa connection within the game dawned on me early into the first quarter. I did some digging and found that wrestling video from five years ago. A lot can change in such a short amount of time.
When it comes to Linderbaum and Wirfs, all you have to do is look at them now to see the glory, greatness, and above all else, brotherly love.
30 famous people you might not know were college athletes
Stacker
dug deep to find 30 celebrities who were previously college athletes. There are musicians, politicians, actors, writers, and reality TV stars. For some, an athletic career was a real, promising possibility that ultimately faded away due to injury or an alternate calling. Others scrapped their way onto a team and simply played for fun and the love of the sport. Read on to find out if your favorite actor, singer, or politician once sported a university jersey.