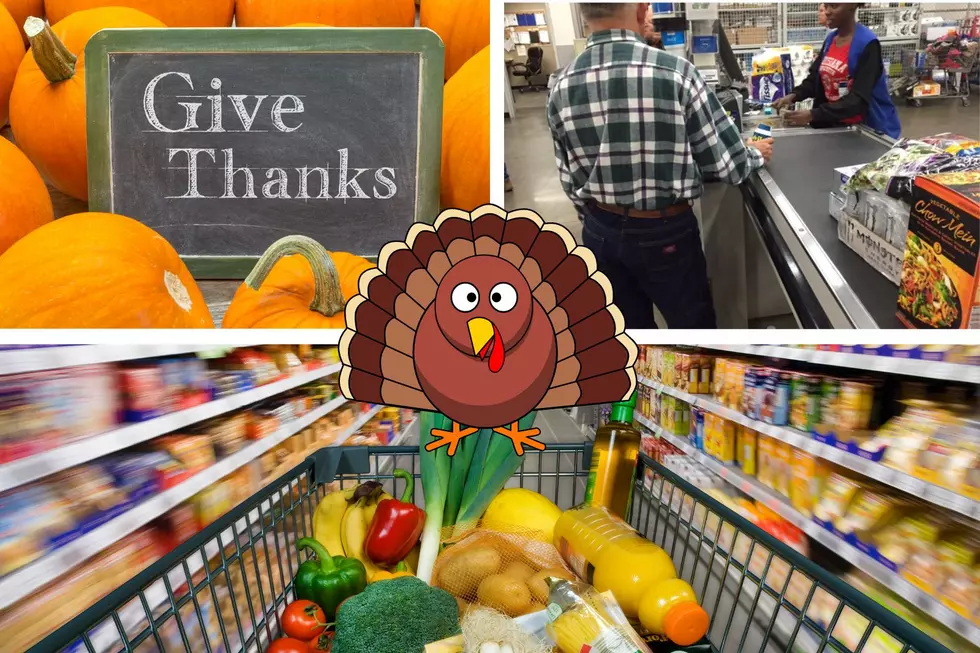 This Iowa/Midwest Grocery Store Will Close on Thanksgiving for the First Time
Photo Credit: marekuliasz, Getty Stock (give thanks); Bruce Mikells, Lake Charles (checkout line); gopixa, Digital Team (grocery cart); Canva (clipart)
As someone who has had to work on Thanksgiving for the last nine years, be it in retail or in radio, I am happy for the workers of this large grocery store, which has done something they've never done in their history.
For the first time in its 92 year history, this chain grocer will give their employees the (Turkey) Day off.
That grocery store is Hy-Vee, who announced via press release today that its more than 285 retail locations will be closed on Thanksgiving Day, which falls on November 24th this year.
This move gives more than 80,000 employees across eight states — including Illinois, Iowa, Kansas, Minnesota, Missouri, Nebraska, South Dakota, and Wisconsin — a holiday they can enjoy with their friends and family.
As stated in the aforementioned press release, the move is "reflecting Hy-Vee's commitment to be the best place to work in America." It also means that the smaller entities within larger Hy-Vee stores (such as Hy-Vee Fast & Fresh locations as well as Hy-Vee Wine & Spirits locations) will also be closed on Thanksgiving.
Thanksgiving Day is about gratitude. The last several years have been some of the most challenging our employees have experienced and this is our way of showing our appreciation for everything they do on a daily basis to serve our customers," said Jeremy Gosch, CEO and president of Hy-Vee. "By closing our stores on Thanksgiving Day, we can give back to our employees by providing them time to focus on their own celebrations. - per Hy-Vee's press release
Customers who purchase holiday meal packs will be able to schedule a time to pick up their order in-store prior to the Thanksgiving holiday or via curbside pickup from 8 – 11 am on Thanksgiving Day at Hy-Vee grocery stores. Customers can order holiday meal packs by calling their local Hy-Vee store or by ordering online. It's worth noting you'll still be able to get gas at Hy-Vee on Thanksgiving Day; you'll just need to pay at the pump.
All Hy-Vee corporate offices will also be closed on Thanksgiving Day. For more information on specific store locations or hours, visit their website. You can also read more about Hy-Vee's decision via their company press release.
LOOK: Here Are the 25 Best Thanksgiving movies of all time
50 Most Popular Chain Restaurants in America
YouGov investigated the most popular dining brands in the country, and Stacker compiled the list to give readers context on the findings. Read on to look through America's vast and divergent variety of restaurants—maybe you'll even find a favorite or two.