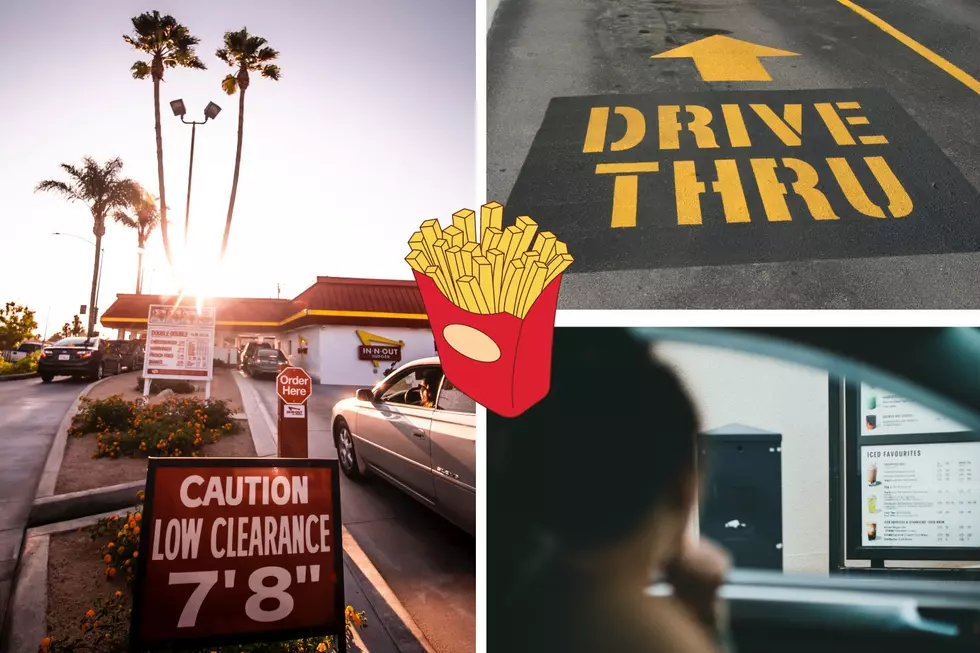 Of All the Fast Food Drive-Thrus, This One is the Slowest…
Photo Credits: Jonathan Cooper, Unsplash (drive thru lane); michael langley, ThinkStock (drive thru logo); Robert Penaloza, Unsplash (drive thru window); Canva (clipart)
I know I'm in the minority, but I've never been a fan of drive-thrus. I'm the person who parks and goes into a restaurant if I see more than two cars in line. The ongoing pandemic, which closed a number of restaurants' dine-in areas, saw me begrudgingly accept the mode of alleged convenience for over a year. It was no coincidence I ate less fast food during the pandemic than I ever had in my life.
In keeping with their tradition, QSR Magazine has just released their "2022 QSR Drive-Thru Report." This comprehensive guide examines the ins-and-outs of many different fast food drive-thrus, however, there's one main summation that catches peoples' eyes: wait-times.
The 2022 report discovered that Chick-fil-A, the popular fast food chicken restaurant, has the slowest drive-thru times of national restaurants. And it wasn't particularly close. The average time (in seconds) customers spend in a Chick-fil-A drive-thru is 325 seconds (which rounds out to over five minutes). The second slowest was McDonald's at 291 seconds and Carl's Jr. at 289 seconds (both well over four minutes).
QSR Magazine wasn't out to smear Chick-fil-A, despite what the data found. The report went on to justify the longer wait times due to the sheer volume of customers (plus it's worth noting that some Chick-fil-A restaurants have two, or even three, concurrent lines at once).
Chick-fil-A also topped the report in terms of average cars in its drive-thru at any given time (more than five). McDonald's followed with three cars while Wendy's rounded out the top three with a little more than two cars.
But customers aren't seemed to be sweating the wait times nor the drive-thru traffic when it comes to the monumentally popular chicken eatery. Chicken lovers gave Chick-fil-A a glowing 93% approval rating for "speed of service;" Arby's, somehow, someway, has a 96% approval rating proving that, yes, despite the age-old internet joke, people do indeed eat at Arby's!
From June until the end of July 2021, QSR Magazine's report included data from over 1,500 shops belonging to 10 major fast food brands in the United States. You can see the full breakdown of the data here!
LOOK: 15 Discontinued McDonald's Menu Items