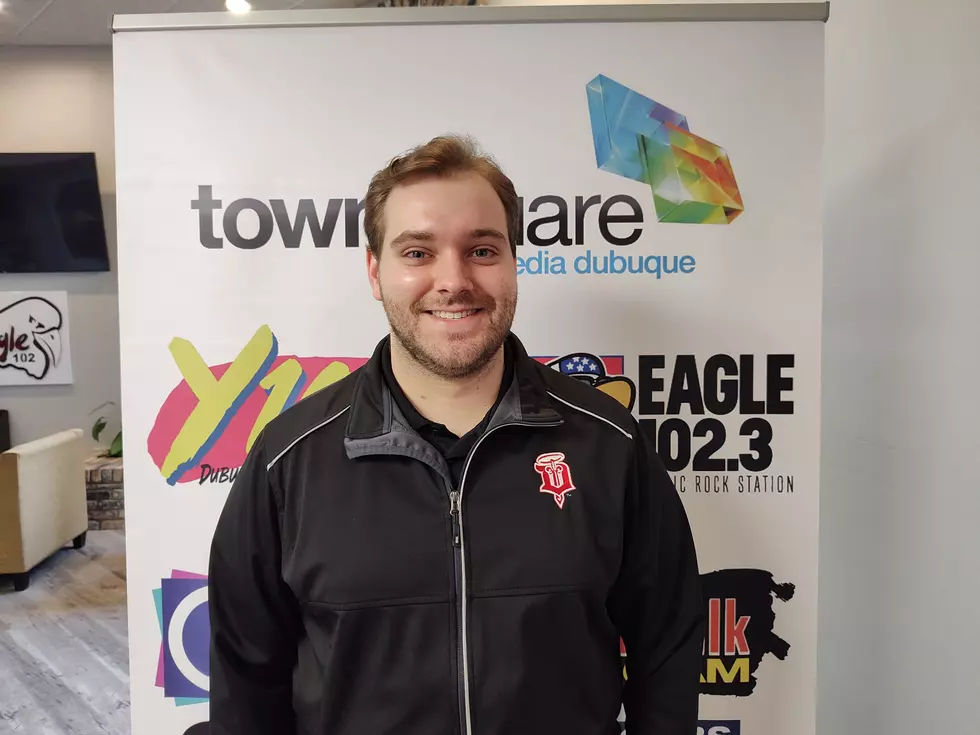 Blake Theisen Embraces Being the "Voice of the Dubuque Fighting Saints"
Blake Theisen, Broadcasting and Media Relations Manager of the Dubuque Fighting Saints. Photo Credit: Steve Pulaski
The Dubuque Fighting Saints are hot off a winning weekend, where they swept Cedar Rapids both at and away from home. Their current record is 15-12-2, in the thick of a season where almost every team appears to be scrappy and competitive in some form.
Calling all the action for the Fighting Saints this year is Blake Theisen, who was hired by the Saints as their Broadcasting and Media Relations Manager in August 2022. The "Voice of the Fighting Saints," Theisen is the one you hear calling all the games on Eagle 102.3. He brings four years of hockey broadcasting experience to Dubuque, including two seasons broadcasting Division 1 hockey at his alma mater St. Cloud State University.
As two young, hungry broadcasters in an ultra-competitive field, Theisen and I have something of a bond. I liked him from the first time I met him back in the summer, and was elated when he graced the studio with his presence once again. We chatted about us both being new to Dubuque as well as Theisen's first few months on the job, assuming the role of being the voice for this city's storied hockey team.
When an opening for a broadcaster for the premier junior hockey league came onto his radar, Theisen was worried he lack experience. Despite being talented, he knows as well as any broadcaster that opportunities like this one don't come available very often:
To be able to land a job at this level and in this league, and be here in Dubuque [means a lot to me] Being from Minnesota, it's the state of hockey, so coming down here to Iowa, I didn't know what to expect. [I wondered] how big is that hockey market? What is that feeling like? And there really isn't a difference. The fans are educated. They understand the game.
Theisen grew up in St. Cloud and obtained a degree in Mass Communications at St. Cloud State in the spring of 2022. He started skating at the age of three, and played hockey all throughout high school. He wanted to stay close to the game post-high school, and broadcasting games felt like the best possible way to do that.
In our interview, Theisen also talked about his most memorable call. That call game during a nail-biting overtime win against the Chicago Steel, arguably the best team in the USHL this year:
There were a lot of factors in that game that said we probably shouldn't have won on that particular night. We were missing some guys, and things like that. That part of the game was awesome, and that little extra personal flair to it added to make that [one] of the more special and memorable calls of the season so far. But [there's] lots of hockey left, I hope we can top it.
Take a listen to my interview with Blake Theisen below. For information on the Dubuque Fighting Saints' schedule and tickets, visit their website.
ALSO: Former Minnesota Twins All-Star's Home for Sale - Complete With Brewery