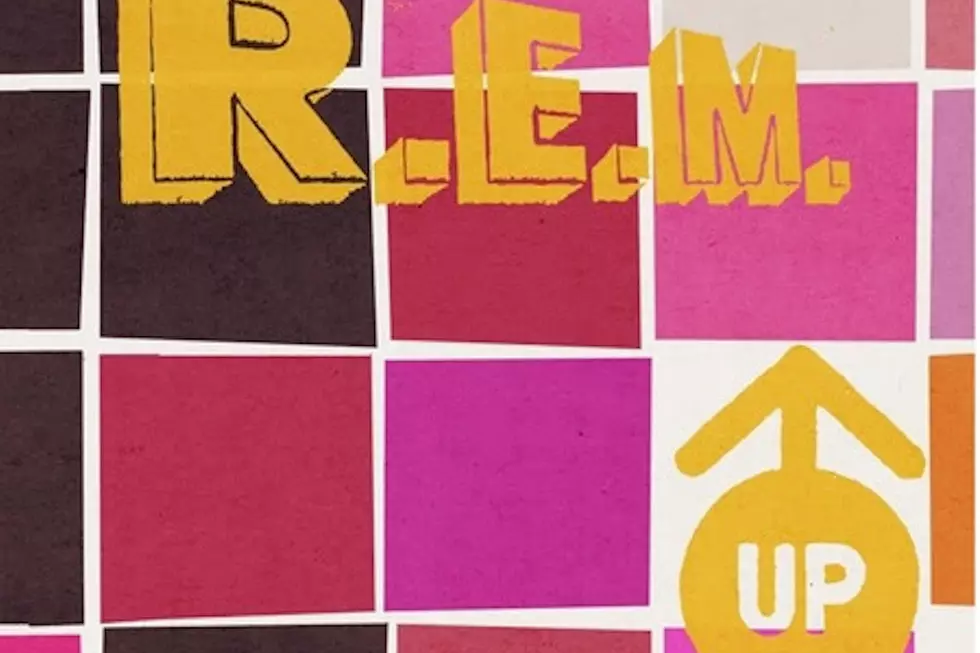 R.E.M. Announces 25th Anniversary Reissue of 'Up'
Craft Recordings
R.E.M. has announced a 25th anniversary reissue of their 1998 album, Up, set for release on Nov. 10.
The collection includes a newly remastered version of the album, plus a previously unreleased 11-song set taken from the band's 1999 appearance on the TV show Party of Five. There are also new interviews with the members, music videos and more.
"The intersection of visual and musical art is always interesting, so it was cool to be a part of TV," bassist Mike Mills recalled in a press release.
You can see the track listing for the deluxe two-CD/Blu-ray edition below.
Previously Unreleased R.E.M. Song
Ahead of the release, you can hear a previously unreleased version of "Daysleeper" from the Party of Five recording session below.
"There are dozens of great R.E.M. live sets out there, but nothing quite like this up-close oddity," Josh Modell writes in the set's liner notes. "Loose and happy, the band runs through a good chunk of Up in front of a small crowd. ... Stipe is chatty, telling stories about accidentally ripping off Billy Corgan (and telling Corgan about it), playing with the Human League on a funny stage at that very venue and more."
READ MORE: How R.E.M.'s 'Document' Dragged College Rock Into the Mainstream
R.E.M., 'Up' 25th Anniversary Edition Track Listing
Disc 1 – 'Up' (remastered audio)
1. "Airportman"
2. "Lotus"
3. "Suspicion"
4. "Hope"
5. "At My Most Beautiful"
6. "The Apologist"
7. "Sad Professor"
8. "You're In The Air"
9. "Walk Unafraid"
10. "Why Not Smile"
11. "Daysleeper"
12. "Diminished"
13. "Parakeet"
14. "Falls To Climb"
Disc 2 – Party of Five Recording
1. "Introduction"
2. "What's The Frequency, Kenneth?"
3. "Lotus"
4. "Daysleeper"
5. "Country Feedback"
6. "Walk Unafraid"
7. "Losing My Religion"
8. "Parakeet"
9. "The Apologist"
10. "It's The End Of The World As We Know It (And I Feel Fine)"
11. "I'm Not Over You"
12. "Man On The Moon"
Disc 3 – Blu-ray
1. "Up" – 5.1 Surround Sound
2. "Up" – Hi-Resolution Audio
3. "This Way Up" (press kit)
4. "Uptake" (six-song performance)
5. "Daysleeper" (music video)
6. "Lotus" (music video)
7. "At My Most Beautiful" (music video)
25 Albums Turning 25 in 2023
Some rockers enjoyed new beginnings, while others struggled to maintain their elite status.