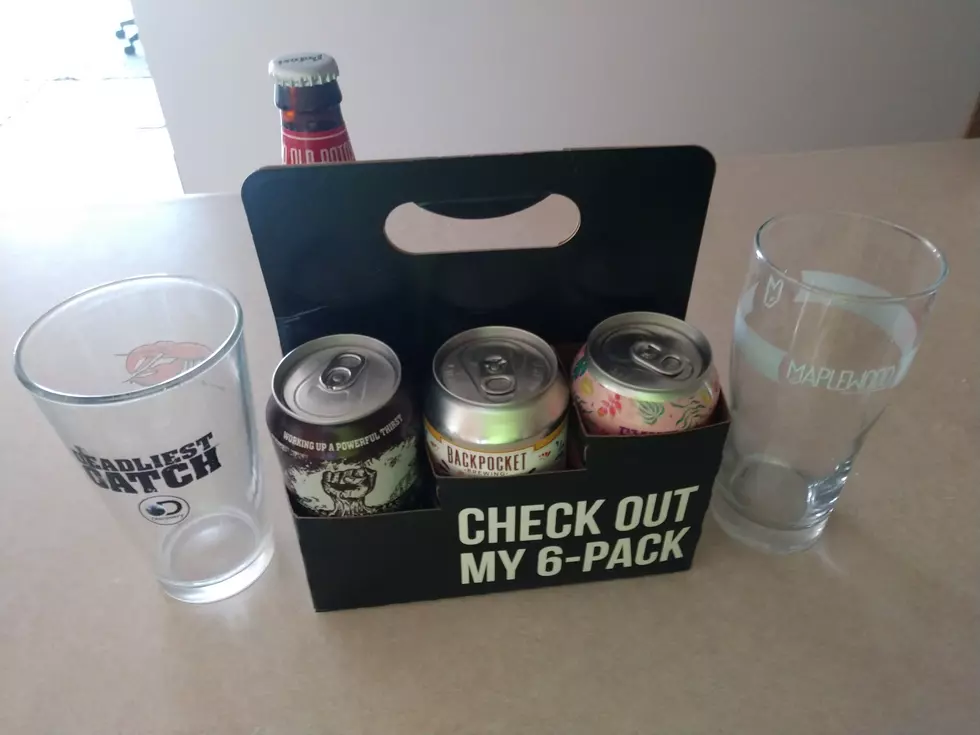 It's Craft Beer Week, Let's Crack Open Some Local Beers (Part One)
Photo Credit: Steve Pulaski
Ever since I wrote about some of Iowa's highest rated beers, I've been anxious for Craft Beer Week to arrive. I wanted an excuse to stop at a store, mix a six pack of local brews, crack them open, and write about each one of them.
Well, that week is finally here! Craft Beer Week lasts from May 16th through the 22nd. You might want to check out your favorite local restaurants and breweries to see if they have any specials to commemorate the week. Or, do what I did and treat yourself to a sixer.
First, some ground-rules I implemented for myself. I did pick up a couple Wisconsin beers. I couldn't resist one stout in particular and I am also guilty of never trying Potosi, so I felt that was a good excuse at least. With each review, I'll highlight the color of the beer, the smell, and the taste (of course) before giving my final rating. At the bottom of this post is a gallery I assembled featuring more pictures, if you're interested!
Let's get to tasting.
Backpocket Brewing: Tipsy in Tijuana (Mexican Lager) - Coralville, IA:
I didn't necessarily plan to conduct this tasting outside, but when it's 74 degrees and sunny for the first time in ages, you call an audible and embrace the beautiful weather.
Tipsy in Tijuana is Backpocket Brewing's signature Mexican lager, which includes a hint of key lime juice and salt. It's brewed with flaked corn, rice, and Motueka hops. 5% ABV on this bad-boy as well.
The beer pours a gorgeous golden color and smells absolutely lovely. It has that distinct fresh-beer smell that usually comes with a lager, greatly aided by a scent of corn. The end result is a libation that is remarkably easy to drink. The flavor is heavy on the corn, which contrasts nicely with the lime bite at the very end, which gives it a slight but welcomed tartness. The blending of corn, lime, and a little salt all work to make this lager dynamic.
It reminds me a little of Tecate, although far more flavorful. It tastes like I should be cutting grass as opposed to sitting on my deck and having my own craft beer festival.
Rating: 4/5 stars.
Exile: Tico Time (Wheat Ale) - Des Moines, IA:
You'll notice a pattern with my beers of choice during this two-part series: I'm not a big IPA fan. I gravitate mostly to lagers and wheat ales, and when it's wintertime, stouts. That explains why I opted for Exile's wheat ale offering, Tico Time. Its pretty pink can also sold me (you can see it in the gallery below).
Tico Time is a "tropical wheat ale," by definition, brewed with passionfruit and pink guava. Only 4.9% ABV as well, so it's definitely a sessionable beverage.
The beer is a medium orange color with a haze appropriate for a wheat ale. Right away, it smells tart. You can sense passionfruit on the nose complimented by wheat undertones.
That said, the flavor is underwhelming. This is an inoffensive but otherwise bland beer. The hazy wheat flavors seem to negate the passionfruit and guava notes, rendering them as mildly tart but indistinguishable. I will say, the dry finish is a plus. It doesn't linger with a saccharine sweetness, which is a testament to the fresh ingredients Exile uses. Tico Time isn't without some mild merits, but it's a forgettable beverage. The first dud of this series.
Rating: 2/5 stars.
Minhas Craft Brewery: Thirsty Miner Chocolate Stout - Monroe, WI:
While my initial plan was to keep this blog confined to Iowa beers, I wound up breaking my first rule when I saw Thirsty Miner Chocolate Stout (5.5%) on the store's mix-a-six pack rack. It's not technically stout season (you need a bitter winter-wind to get the full enjoyment of a stout, in my pompous opinion), but I couldn't resist a chocolate beverage. Plus it was nice to incorporate a darker, heavier beer into the mix.
Thirsty Miner is a product of Minhas Craft Brewery. It's apparently the Midwest's oldest brewery. If you have a few minutes, their story is compelling. Maybe I'll write about them further at a later date.
Focusing back on Thirsty Miner, this stout pours black as oil, like most stouts. I could smell the chocolate from afar. The cocoa powder is strong with this one. You get a little of that stout-centric malt-smell too. They should make this an air freshener. It smells the best of the three so far.
To my surprise, the cocoa powder doesn't kick in until the finish. Thirsty Miner has more of a caramel taste upfront. Moreover, it feels lighter for a stout; not as thick or chewy as others I've tasted. It's also a touch too heavy on the carbonation. All that being said, it is flavorful. Caramel and cocoa mix very well and give this beer a lot of character. This is one of the most sessionable stouts I've yet to have.
Rating: 3/5 stars.
That's a wrap on part one of this two-part Craft Beer Week tasting. I got three more chilling in my fridge to crack open on Wednesday, with part two on Thursday! In part two, I'll also go ahead and rank them #1-6. Stay tuned!
CLICK HERE FOR PART TWO OF MY CRAFT BEER WEEK TASTING!
IA/WI Craft Beer Week Tasting: Part One!