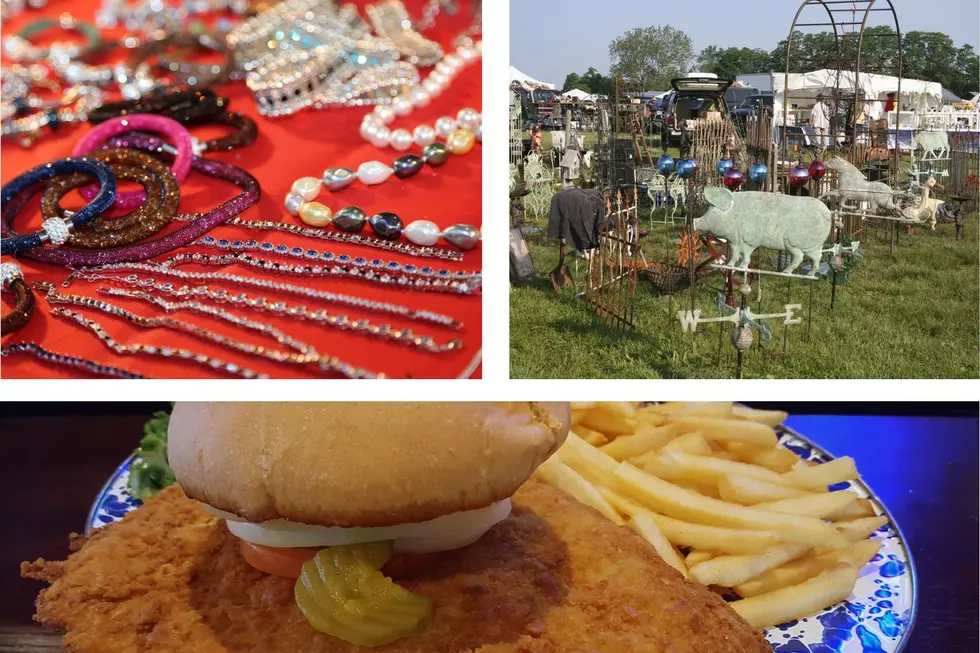 Another Huge Eastern Iowa Flea Market is Happening in October
Photo Credits: ChiccoDodiFC, Creative Services (jewelry); DarcyMaulsby, Cedar Rapids (porn tenderloin); nancykennedy, Think Stock (flea market)
The Summer Flea Market, Antique, and Collectible Show in Monticello, IA was a roaring success. It was one of the largest flea markets in Iowa, and from the social media buzz I saw, it didn't disappoint!
It was the first year the event was held in Monticello after 37 years at the Maquoketa Fairgrounds. Evidently, it was successful enough that the Fall Flea Market, Antique, and Collectible Show is going to be held at the Jones County Fairgrounds on Sunday, October 16th!
From 8:30am to 3:30pm, drop by and experience one of Iowa's largest flea markets, with an upwards of 100 exhibitors, both indoor and outdoor (weather permitting). Exhibitors will be selling a vast array of items, from clothes, antiques, jewelry, gadgets, memorabilia, and so much more!
Admission to this event is only $4; anyone nine-years-old and under can get in for free. Parking is also free! Early bird shopping is also welcome! For $10, you can shop between 6:30-8:30am on the day of the event.
In addition to antiques, nostalgic items, and sure-to-be-other great finds, food trucks will be on-site serving up deliciousness. Chuckies Tenderloins will be one of them, so come with an appetite for pork tenderloin!
As someone who loves flea markets (thanks, grandpa) and relishes a sleepy Saturday/Sunday morning strolling through aisles of bargains with a cup of coffee, I want to make it out to Monticello for one of these in due time. This one sure appears to have a lot of variety.
The Jones County Fairgrounds is located at 800 North Maple Street, on the far northeast side of Monticello. For more information on the Fall Flea Market, Antique, and Collectible Show, visit the event's Facebook page or contact Callahan Enterprises, LLC at 319-462-0135.
Farmers Markets in the Cedar Valley & NE Iowa - List
There's a Farmers Market in Waterloo, Cedar Falls or in the surrounding area almost every day of the week! Check 'em out and support your friends and neighbors. Buy Fresh - Buy Local