Journey Dedicate 'Lights' to John Wetton During Second Night of Tour With Asia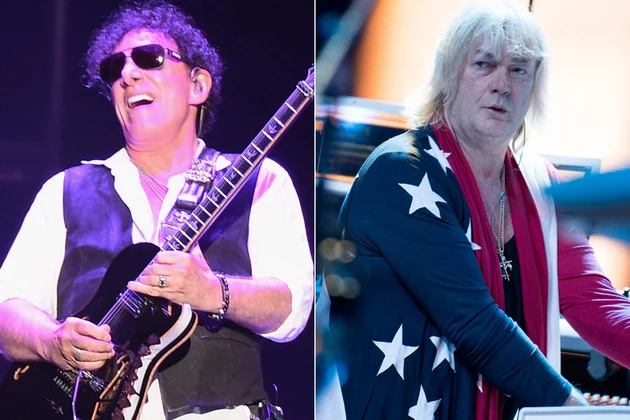 Journey and Asia have started their joint tour, with both bands taking time to honor recently deceased Asia frontman John Wetton along the way.
The tour started out in Yakima, Wash., on March 15, and saw Asia adding a tribute to Wetton to their set — delivered by a reconfigured lineup that now includes Yes veteran Billy Sherwood on bass and vocals. Guitarist Sam Coulson offered fans a peek behind the scenes with a short tour-opening video showing the band's prep work for the show as well as footage from the performance.
Journey didn't lose a bandmate when Wetton died, but they're still feeling his loss — as evidenced during the tour's second night in Spokane, when guitarist Neal Schon dedicated the evening's performance of "Lights" in Wetton's honor, adding a poignant undertone to the crowd's customary practice of holding up lighters and/or cellphones during the song.
@JourneyOfficial @NealSchonMusic dedication of "Lights" to John Wetton and the 10000 crowd responds with lights. pic.twitter.com/2ubEDWR4pU

— Original Asia (@originalasia) March 17, 2017
As previously reported, Journey and Asia will stick together on the road through early April before taking a brief break and regrouping for another batch of dates throughout the summer. Journey tickets are on sale now; you can also check out a pair of early set lists from the tour below.
Journey Set List, Yakima Valley SunDome, 3/15/17
"Separate Ways (Worlds Apart)"
"Be Good to Yourself"
"Only the Young"
"Stone in Love"
"Any Way You Want It"
"Lights"
"Open Arms"
"Who's Crying Now"
"Rubicon"
"La Do Da"
"Wheel in the Sky"
"Faithfully"
"Don't Stop Believin'"
"La Raza del Sol"
"Lovin', Touchin', Squeezin'"
Asia Set List, Spokane Arena, 3/16/17
"Wildest Dreams"
"Sole Survivor"
"Time Again"
"Don't Cry"
"The Smile Has Left Your Eyes"
"Only Time Will Tell"
"Heat of the Moment"
Journey Albums Ranked Worst to Best
Source:
Journey Dedicate 'Lights' to John Wetton During Second Night of Tour With Asia