Derek Trucks Remembers Heartbreaking Final Visits With Gregg Allman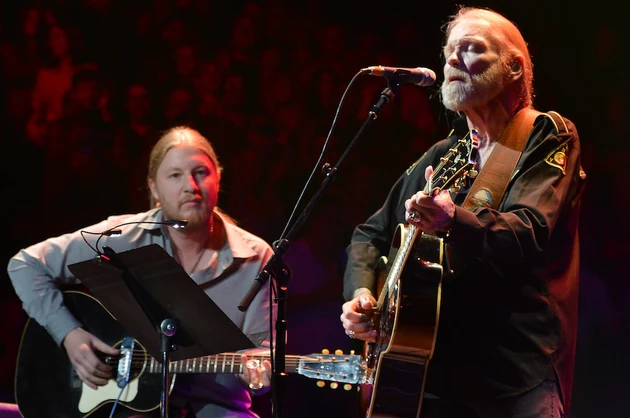 Until a visit about three weeks before he died, former Allman Brothers Band member Derek Trucks figured Gregg Allman would beat his cancer.
"I think, until that day, that was how I felt about it all along," Trucks told Rolling Stone in a new interview. "I was like, 'Oh, yeah, I know he's going through some stuff, but s—, he'll be fine. That dude is invincible.' Then you realize that there's some things you can't just walk through."
Allman died in late May at his Savannah, Ga., home, after years of health issues. Trucks, the nephew of late Allman Brothers Band drummer Butch Trucks, first met Allman at age 4; by 9, Trucks was jamming with his heroes at the old Tropics International club in Miami Beach.
"He was very sweet, but just his persona was intimidating: He was Gregg Allman," Trucks said. "Even when Dickey [Betts] was leading the band, Gregg was the focal point at all times. He just had that magnetism, and that f—ing voice. They don't hand those out often. He was the keeper of the mojo."
Trucks joined the Allman Brothers Band in 1999, and continued until the group announced a career-ending run of shows at the New York City's Beacon Theatre in 2014. His last time playing with Allman was last summer, when he sat in for "One Way Out" during a Tedeschi Trucks Band appearance at Charlotte, N.C.
"It was right towards the end. I didn't fully know it at the time, but he was very sick," Trucks said. "He really went past the point of when he could physically do it. But I think he loved being out there and doing it. He wasn't in his best place physically. But the fact that he came out — you could feel this wave from the audience, just seeing him there. It makes you realize how f—ing important that guy was to so many people."
Trucks closed the book on the Allman Brothers Band forever after the deaths of both Allman and his uncle, who died in January. "You can't have an Allman Brothers gig without an Allman brother," Trucks said. "I've heard people try to argue that you can, but I'm not buying it. If [late band co-founder] Duane [Allman]'s not there, Gregg certainly better be there. There are a few bands out there right now that are using names that maybe shouldn't be. That's another discussion."
Besides, Trucks said, Allman simply can't be replaced. "He was just a bona fide f—ing bad-ass," he said. "There's a lot of pretenders and a lot of people who think that those torches get passed, but there's not another Gregg. It feels like this fictional, amazing, Southern gothic epic. It's un-f—ing-believable."
Allman Brothers Band Albums Ranked Worst to Best
Source:
Derek Trucks Remembers Heartbreaking Final Visits With Gregg Allman